Pokies are the biggest money making casino games on the Internet. In New Zealand, certain lucky players have already had a taste of their impressive jackpots.
NZ players won their biggest jackpots on progressive pokies. Indeed, these games have no limits on the money prizes up for grabs. The prize money will simply keep increasing as long as no one manages to hit the slot machines progressive jackpot.
The nature of progressive pokies is that a fraction of the bet contributes to the in-game jackpot increasing whenever a player places a bet.
Thanks to life changing pokies like the Mega Moolah, a super lucky Kiwi bettor tried his hand and won a whopping NZ$13,615,861.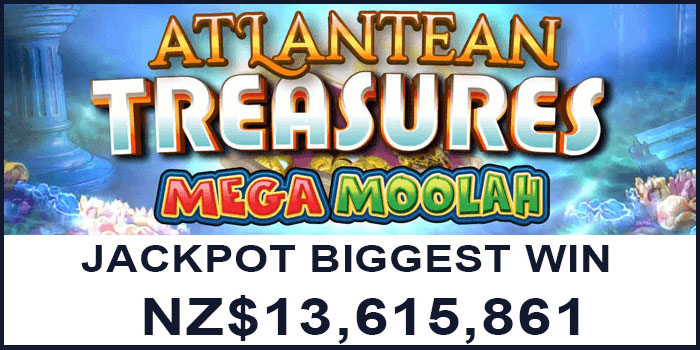 Record NZ wins on online casino sites
Several Kiwi players have walked away with huge jackpots after trying their luck at casino sites in New Zealand. These multi-million dollar winnings were all won on the Mega Moolah pokie. This game, produced by Microgaming, is one of a kind. You can find the Mega Moolah game and its four progressive pots, including the mega jackpot of over one million, at the most profitable online casino sites. Kiwis have, of course, taken home impressive sums of money on other online pokies, but they've never exceeded NZ$100,000.
New Zealand record on an online pokie
The biggest jackpot won on an online pokie in New Zealand came in at NZ$13,615,861. The Kiwi bettor won this record jackpot on 8th May 2020 at the River Belle website. The player was betting on the Atlantean Treasures Mega Moolah pokie when they pocketed all those millions.
PLAY AT RIVER BELLE
Other huge jackpot wins
There have been other spectacular jackpots won in New Zealand on top of the $13 million pot of May 2020 from a casino site.
On 7th June 2016, Rawiri Pou landed a jackpot of NZ 10,144,395 after trying his luck on the Mega Moolah pokie at Casinoland.com.
In 2018, a Kiwi hit the jackpot at the Jackpot City site, winning a sum of NZ$8,332,554 on the Mega Moolah wheel.
Since playing online casinos in New Zealand became possible, more than ten Kiwis have become millionaires by playing pokies. All of these wins came from games made by Microgaming. The most played Microgaming pokies, which pay gigantic jackpots, are the Mega Moolah games, followed by the WowPot pokies, and King Cashalot and Major Million.
The Rawiri Pou and Casinoland.com buzz
Rawiri Pou is the only big winner from the archipelago who announced his victory to the general public. Other big NZ winners preferred to remain anonymous, which is normal. However, in 2016, when Rawiri won, the media took it into their hands to find out more. The New Zealand authorities wondered about this jackpot won on the Internet, and some people even came forward saying it was suspicious.

After investigations, the case was closed. The jackpot won by Rawiri was, of course, completely honest and under NZ law. As a result, the Casinoland.com website where he won the jackpot earned a huge following thanks to the news.
Recent massive jackpots
There haven't yet been any record jackpots won by Kiwis on casino sites in 2021. However, it was a different story for 2020, as four lucky NZ players earned multi-million dollar jackpots. All these crazy wins came from the Mega Moolah online pokie.

| | |
| --- | --- |
| 6th December 2020 | NZ$6,720,526 |
| 29th October 2020 | NZ$6,017,396 |
| 19th September 2020 | NZ$3,075,080 |
| 8th May 2020 | NZ$13,615,861 |
The original Mega Moolah wheel game, from 2006, is the most popular pokie in the series. The other pokies in the saga are more sophisticated in terms of graphics and betting options, but they still haven't taken over the original version.

Pokies and jackpot payout frequencies
Progressive pokies that payout big jackpots have payout rates of around 90%. In other words, the machine retains nearly 10% of the bets made by the players to feed into the jackpots. As a result, this game category has low volatility, meaning it's difficult to win the top prize. With a non-progressive Pokie Machine, it's much easier to hit the jackpot, but the prize money is limited. In terms of the odds of hitting the jackpot, progressive games can be frustrating for players. If you're easily frustrated by losing bets, we advise you to focus on pokies with payout rates of around 97%.
Biggest world record jackpot won
If you're impressed by the record jackpots won in New Zealand on casino sites, we've got something even better. In April 2021, a European won the biggest pot in history. That day, the lucky Belgian winner took home €19,430,723, around NZ$ 32.36 million. This world record came from the Absolootly Mad pokie, a recent Mega Moolah game wheel version.
The other two biggest jackpots date back to 2018 and 2021.
In 2018, a customer at the Grand Mondial casino won €18,915,872 (NZ$ 31.54 million) after betting on the Mega Moolah pokie.
The third biggest jackpot won was on 13th April 2021. On that day, a British player won £15,183,085 (NZ$ 29.46 million) on the Book of Atem WowPot pokie at 32Red.com casino.
New WowPot pokies from Microgaming
WowPot games are new progressive pokies set with mega jackpots that start at 2 million dollars. Made by the same publisher as the Mega Moolah games, WowPot games have the potential to win massive jackpots reaching several million dollars. If these pokies tempt you, they are all playable on the famous NZ Jackpot City site.