Video poker is an electronic slot machine loved by poker fans. The aim of the game is to get a paying hand in two moves. The basic rules are quick to learn. However, if you want to reach a good level, knowing the more complex
combinations
pays off.
How the game unfolds
First things first, you'll need to choose a version of the game. In a local casino, there are usually two variations. In a well-equipped online casino, there are at least four. It's best to go for the Deuces Wild variant as it produces the best results thanks to the Wild cards.
Video poker rules
You can bet up to five coins in each game, which can have a value of 25 cents to NZ$1. Once you've inserted the coins into the slot, press the [Deal] button. At this point, five cards are showing on the screen. There are two options with each card: keep it or change the card. It's possible to change just one card, or all five. As soon as this step is over, the final hand will appear on the screen. If you've won, great! If you end up losing the bet, don't worry and keep your cool.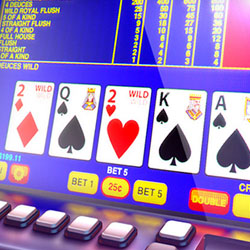 Where can I play Video Poker?
One of the best places to play Video Poker is on the Jackpot City site. The Video Poker machines there are programmed with high payout rates. Not to mention, the expert gaming options configured to computer screens.

On top of this, Jackpot City's welcome program offers bonuses of up to NZ$1600. It's one of the best deals in our guide when it comes to promos at online casino sites in NZ.
Combos that pay off
The combination options of cards in video poker are the same as traditional Poker. You will have to build a combination with the five cards displayed on the screen. The following hands pay:
HAND
PAYOUT
ODDS

---

Pair
Two cards of the same value.
1:1
2.37 to 1
At Tens or Better it already pays off with a pair of 10s.
A paying pair
Two cards of Jack, Queen, King or Ace.
1:1
7.69 to 1
Two Pair
Two sets of two matching cards.
2:1
21 to 1
Three of a kind
3 cards of the same value.

3:1
47 to 1
Straight
Sequence of 5 cards of different colours.
4:1
255 to 1
Flush
Mix of 5 cards from the same suit.
6:1
509 to 1
Full House
Three of a kind with a pair.
9:1
694 to 1
Four of a kind
4 cards of the same value.
25:1
4,165 to 1
Straight Flush
Five card sequence of the same suit.
50:1
72,193 to 1
Royal Flush
A straight flush with an Ace.
250:1
649,740 to 1
It pays 4000x the bet value with max bets.
Now you have the winning combinations in front of you; you can see how much each hand is worth. The Royal Flush pays the most when betting five coins. Instead of paying 1250x the bet, it pays 4000x the bet. The minimum bet is one 25 cent coin, and the maximum is 5 NZ$1 coins.
Bets on Video Poker
The machine accepts up to 5 coins wagered on a single spin. By increasing the value of the coins, the winning amount up for grabs also increases. With max bets, you can win the super jackpot of 4000 coins.
The best hand
The Royal Flush is the best possible combination, but it rarely occurs. Even if you played for several hours a day, you're still not guaranteed to see a Royal Flush appear on the screen. Rest assured, other winning combos, like Two Pair or Three of a Kind, show up often. There's always a way to increase your assets.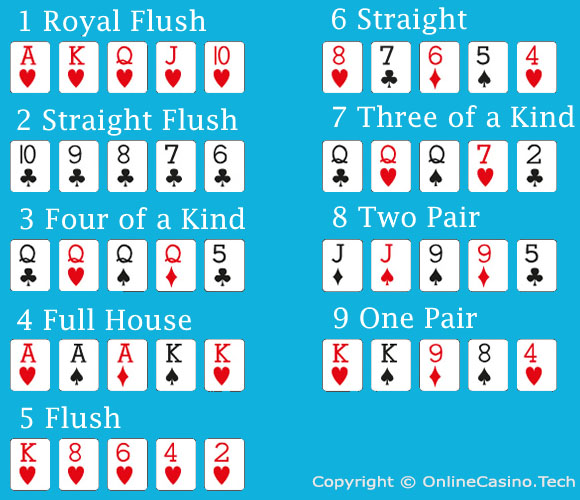 Banco
With each game you win, it's possible to double your winnings thanks to the Banco option. How does it work? If you choose to try Banco, five new cards will appear on the screen, with one face up. You then select one of the four face-down cards. If the value of the card is higher, the casino will double your win. On the other hand, if the card has a lower value, you lose the entire hand. In the event of a tie, you can restart the Banco.

Deuces Wild
Deuces Wild is one of the most played slot machines in New Zealand. Mainly thanks to it's an impressive return to player rate of 99.37%. This variant of Video Poker has two wild cards, and additional payments offer.
Tens or Better
This version is almost as famous as Deuces Wild. Tens or Better starts to pay off with a pair of 10s. There's a slight improvement over other video poker machines. However, it does pay a little less on winning hands. The average payout rate for this variant is 99.14%.
Video Poker bonuses
An excellent way to practice Video Poker is with a demo version. This way, you can train with fake coins without any risk of losing money. Another good way is to play for real money with a bonus. Not all online casinos have the same offers. To help you make the right choice, we've listed the best promotions on our guide. You can get started with the generous offers on our biggest casino bonuses page.
Casino margin
Video Poker is a fan-favourite for obvious reasons. One of the main reasons is that the gambling house has a weak advantage. The casino's margin is below 1%. It's the casino game with the best payout rate! On the other hand, the prizes aren't huge. Video Poker may be easy to win, but it's not the kind of game where you'll walk away with a big jackpot unless you land the Royal Flush.
Be a winner
With a bit of skill and practice, you'll know how to act in every situation to become a winner. The gambling house can't do anything if you come out victorious. The reason the majority of players lose in Video Poker is that they've made a mistake. It all balances out in the end.